Project Management application is integrated with the main Bitrix24 platforms and data books — Tasks and Projects, CRM, Employees. Bringing costs and income data are formed in the context of your clients, tasks, schedule and workflow.
The application helps you maintain accounting system and monitor workflow. The projects are performed at one dashboard. Data export to an Excel file is also implemented.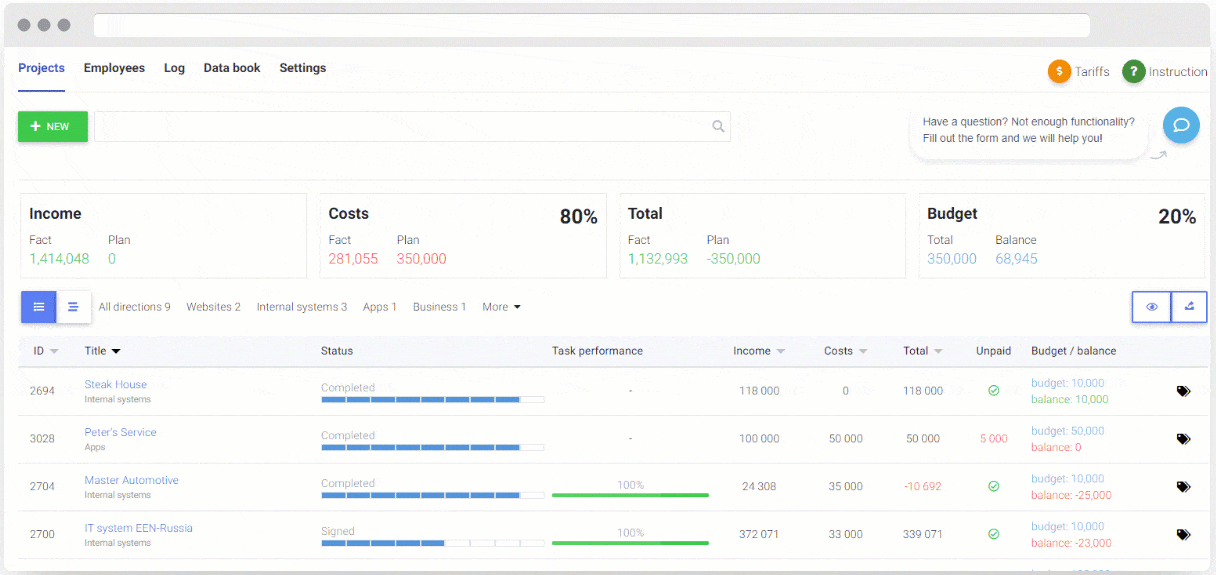 Projects key metrics at one dashboard
Key metrics of all the client projects are performed at a project dashboard with their timeline and latest status. The dashboard provides you with a quick overview of a project's progress: workflow, tasks performance, bringing costs and income data. You can easily change project status in one click.
Customize filters and directions
Filters by parameters and directions grouping instrument help you search projects quickly. Customize and create your own filters.
Export projects data
You can export projects statistical report to an XLS file.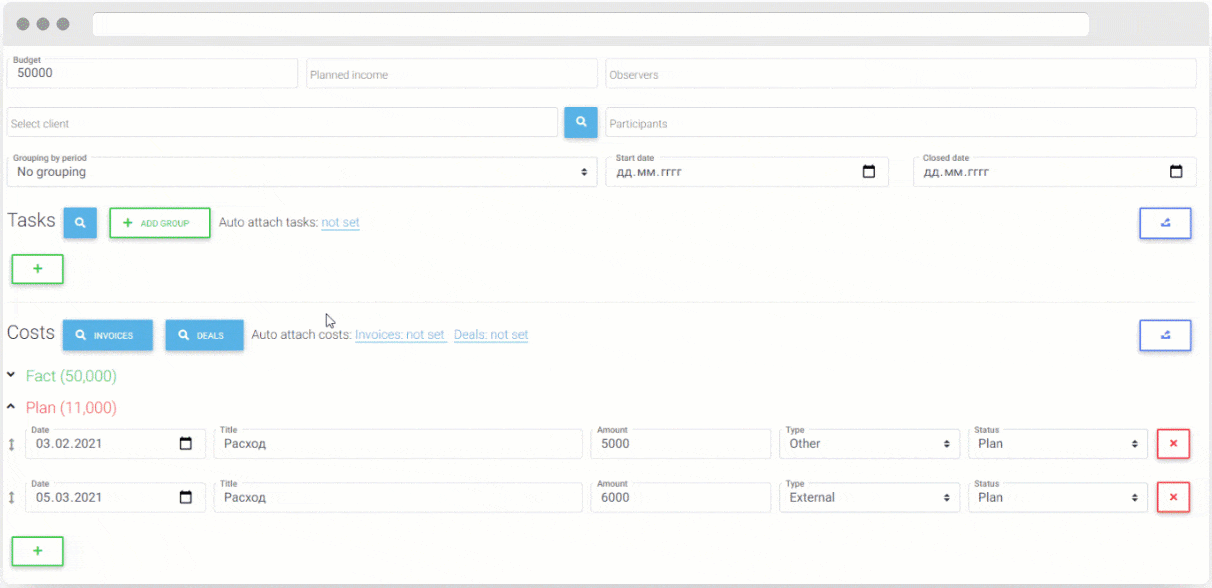 Integration with the basic Tasks and Projects platform
When adding a new project assign Responsible for project execution person, its Observers and Participants. Add deadline.
If you have a lot of tasks within your client project you can group them to manage and monitor easily further.
Automatic tasks attachment
Set signs of automatic tasks attachment within your client project. Add deadline and distribute the load among your employees.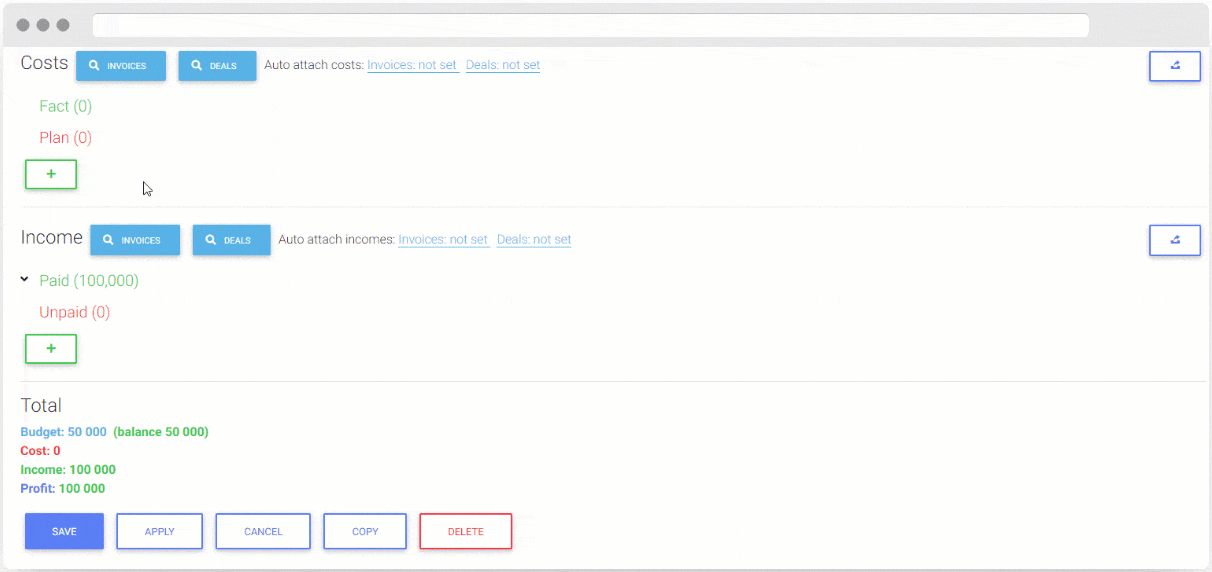 Revenue and expense recognition
Monitor bringing and future costs, payments and profitability of the projects. Use manual, semi-manual and automatic invoice and deals attachment.
Automatic invoice and deal attachment
Set signs of automatic invoice and deal attachment by project status, clients, budget and other parameters to gather budgetary information within a project. Make the whole process of record keeping and customer interaction easy.

Integration with the basic Employees platform
Add users from the basic Employees platform to participate in projects. Customize cost accounting based on the payment options — spent or planned time for tasks execution within the projects.
If the total spent or planned time on a task is less than an hour, allow partial payouts.
Support your projects better with the Project Management Application
We developed the Project Management application and integrated it with the basic Bitrix24 platforms and data books — Tasks and Projects, CRM, Employees — so it can help you better support your projects, stay on schedule and under budget and maintain customer interaction.
You can buy the application for 90, 180 and 360 days.
Versión 1
La realización efectiva de los proyectos es la base del desarrollo exitoso de cualquier negocio
Régimen del trabajo:
El tiempo para respuesta - 48 horas.
Festivos: sábado y domingo.
Instalación estándar de la aplicación
Somos capaces de resolver los problemas de nuestros clientes. ¿Tienes dudas o dificultades con la configuración? Evíenos un mensaje a support@apik-it.com. ¡ Y lo arreglaremos todo!
Configuración de la aplicación.
Después de la instalación, debe ir a la página «Empleados» para obtener una información más completa de los gastos. En esta página, debe completar la información de cada empleado cuyo tiempo se incluirá en las tareas del proyecto.
Para cada empleado debe completar:
El tiempo para calcular los costos de las tareas;

El período;

Pago por cada hora de trabajo.
Después de completar la información suplementaria, pasamos a la creación de proyectos haciendo clic en el botón «Añadir proyecto» en la página «Proyectos». Los proyectos de la aplicación se pueden correlacionar con los proyectos de su portal si selecciona un valor en el campo «Seleccionar proyecto» en la página del proyecto.
Haga clic en el icono de la lupa junto al título «Tareas». Para mayor comodidad, las tareas del portal ya están filtradas por el proyecto seleccionado anteriormente, pero puede cambiar la configuración de filtros si es necesario.
Puede seleccionar todas las tareas mostradas o seleccionar haciendo clic cerca de las necesarias. Después de seleccionar las tareas, debe hacer clic en el botón «Aplicar» para añadir tareas al proyecto.
Después de añadir tareas a los proyectos, podemos añadir gastos adicionales manualmente. Si los gastos son reales, deben transferirse de los gastos previstos.
Pasemos a los ingresos. Los ingresos se pueden añadir manualmente, igual que los gastos, o con clic en la lupa cerca del título podemos seleccionar las facturas. El filtrado está disponible para mayor comodidad.
Restricción del acceso de los administradores. Si hay varios administradores en el portal para denegar el acceso a la aplicación para uno de ellos, en la página «Configuración», seleccione los administradores que deben tener acceso completo.
El administrador no puede sustraerse al acceso,
para evitar su pérdida. Solo otro administrador puede bloquear el acceso. Si se
concede acceso a un usuario ordinario, el no podrá obtener la ampliación de los
derechos para evitar errores.