Track company performance in one click
Evaluate detailed reports on key indicators over selected periods. Statistics for all the goals and the current results of the employee's performance are displayed on an interactive progress bar with bonus marks. These gamification techniques affect positively on your employees, motivate them and can make results easier to retain.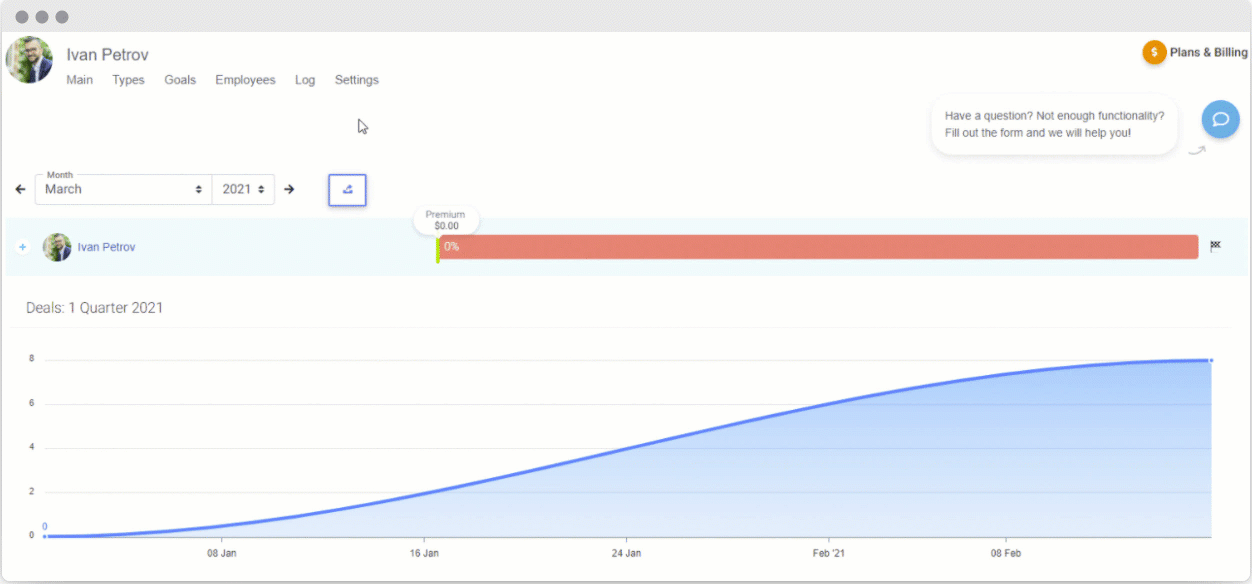 Activity Charts
Display charts on the main dashboard that allows to track your employees' activity and productivity by minutes.
Export data
You can export the KPI statistics report to a XLS file.

Types to succeed in performance and work for better
Set the object parameters filter within entities, statuses, products, responsible persons, payers, etc. The more parameters you set, the more difficult it will be to achieve the goals.
Result types are based on the main Bitrix24 entities: tasks, leads, deals, invoices, quotes, activities and calls. Entity percentage is an outstanding parameter that helps to compare key indicators within two entities.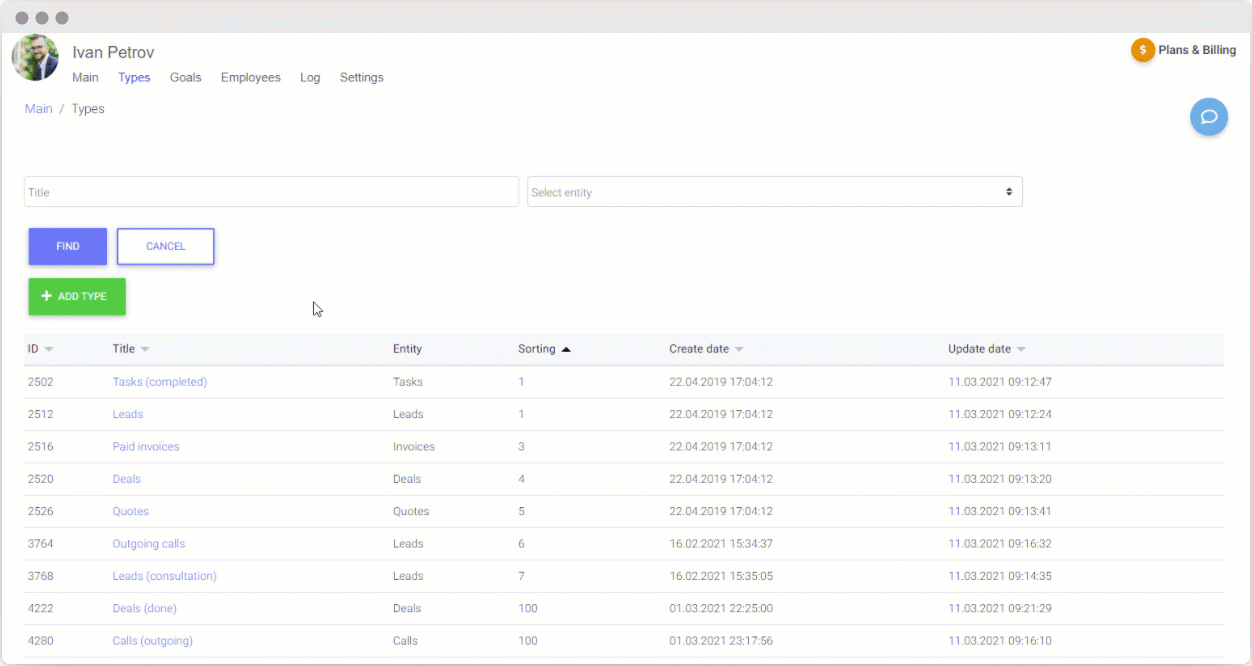 Individual settings
You can set individual parameters — user fields — in order to achieve the right objectives and fulfill the needs of your company.
Integrated approach to goal-setting
Set goals for your employees within result types. Set a target indicator that the responsible should strive for. A goal can be short- and long-term. Use the copy function to reduce your time costs when creating new goals.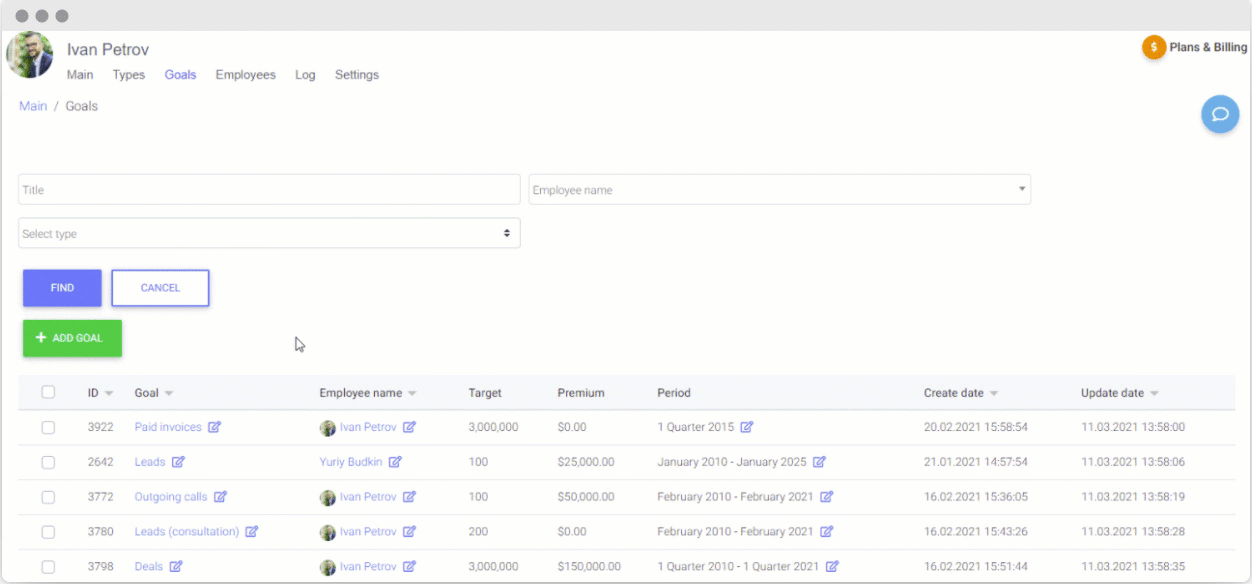 Regular goals
Set short- and long-term goals. A month, quarter or a year — set any period you want to automatically repeat them on a regular basis.
Bonuses
Reward your employees for good work and goals achievement. Set one-time, partial, proportional bonuses or payments for each goal accomplishment.
Measure and track tasks execution
Evaluate tasks execution by your IT-department. Set type results and goals within the Tasks entity. Count them by total number of executed tasks, spent or planned hours, projects and responsible employees, etc.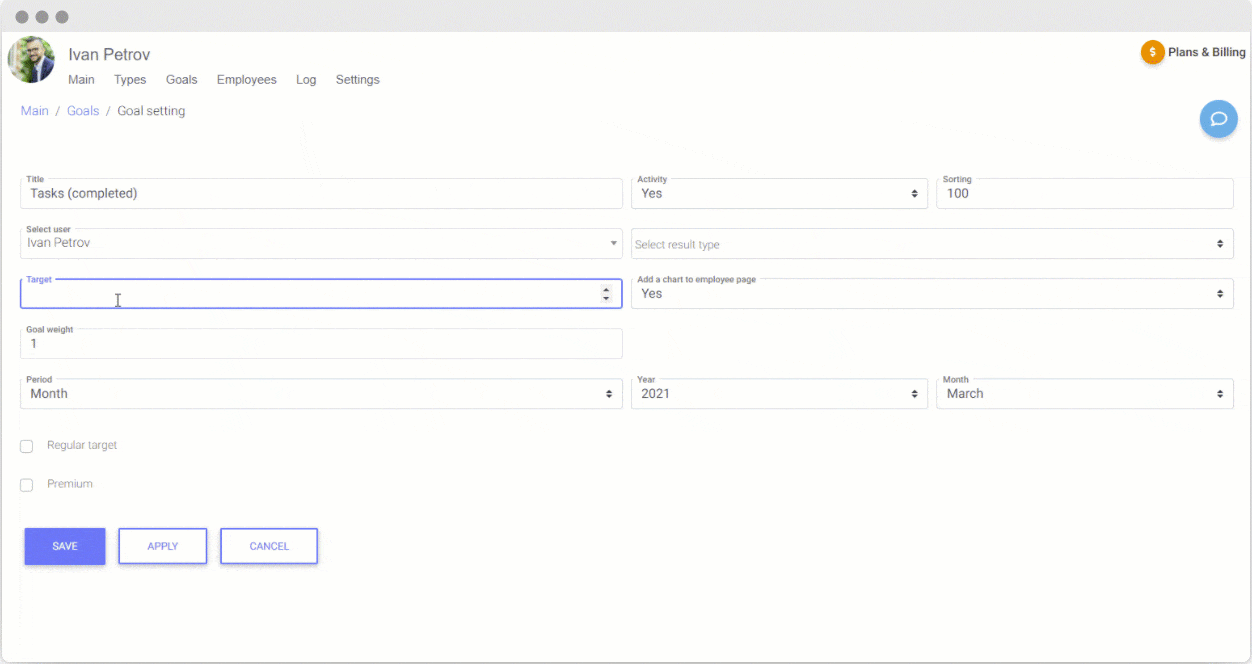 It's very important to provide your clients with ready solutions on time. With the help of our App you can measure how employees meet deadlines.
Unleash the potential of the employees who perform the efficient results when achieving the goals.

Motivate sales managers
Find professionals among the specialists of your sales department. Set ambitious goals but not unrealistic ones within the Deals, Invoices and Quotes entities.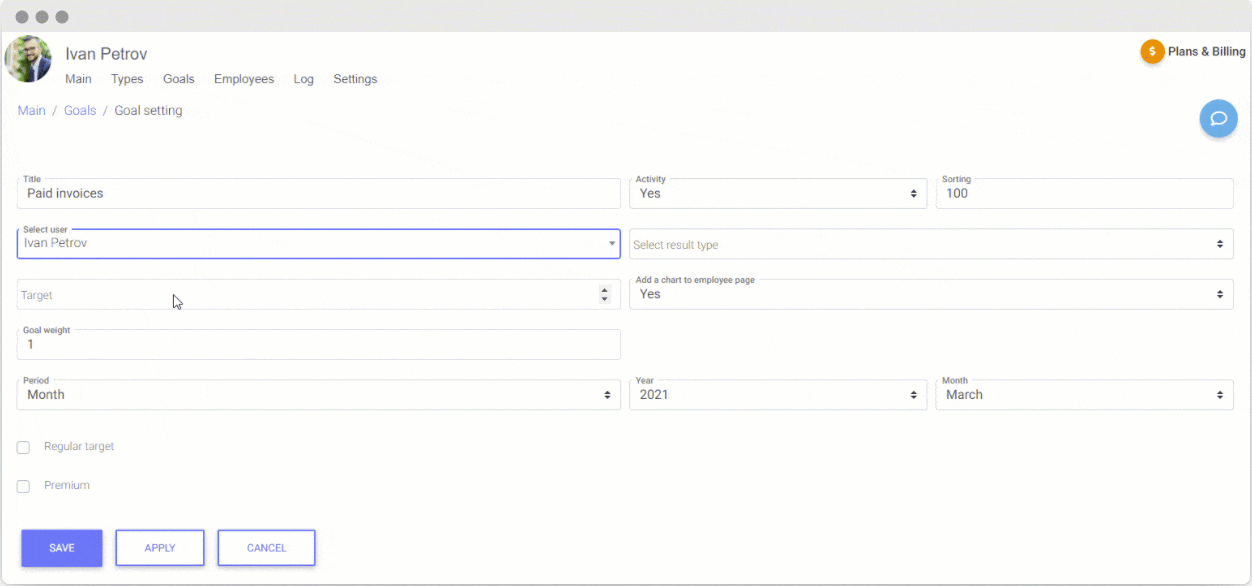 The most valuable employee would attempt to convince a customer to take some very special offer or raise the amount of a transaction.
Analyze the high bounce rate of your managers and look for one who would need some additional Customer Negotiation Tactics and Relationships training.
How does your call-center work
Operators of your call center can contribute to the success of your company moving prospective clients towards being customers. In order to evaluate the efficiency set goals for them within the Calls or Leads entities.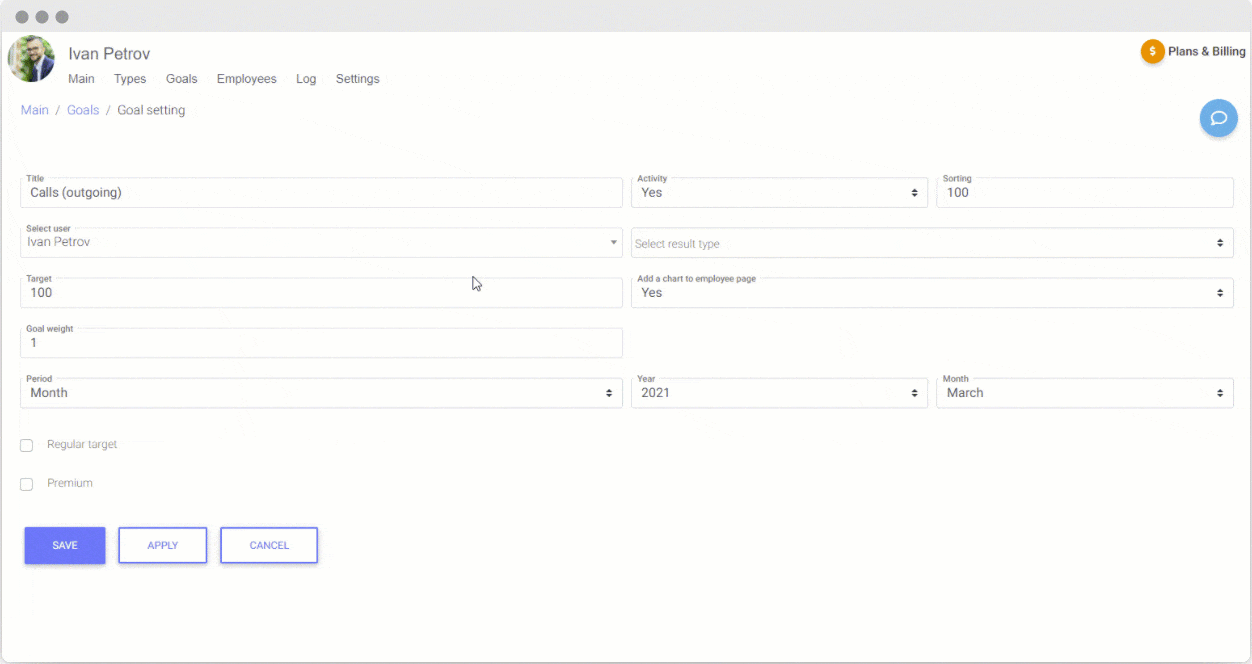 Configure the conditions for goal setting: outcoming and incoming calls, lead generation channels, performance in the negotiations, etc.
Set the call duration condition to find out how an operator can keep clients engaged in the conversation.
Payment settings and access rules
Add users fr om the basic Employees platform and set payment options by periods. Administrator of the app can configure and set the employee permissions to the achievements of the colleagues, and also specify edit and view rules for the head of the company.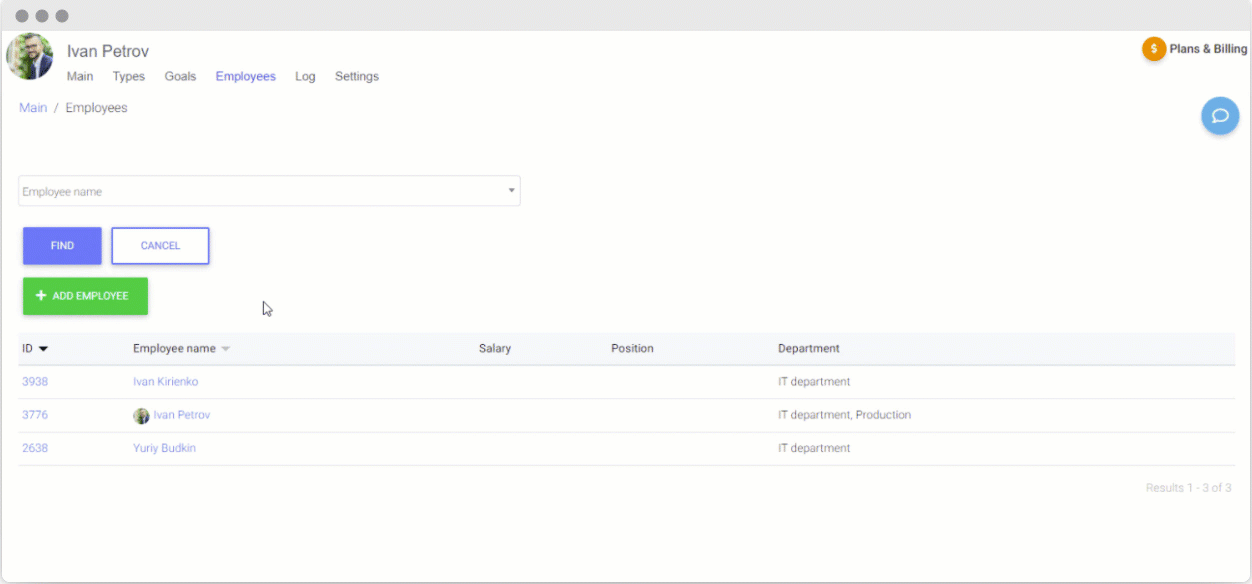 Improve your company performance and succeed with KPI — Company Performance App for Bitrix24
KPI — Company Performance App for Bitrix24 is an automated performance management solution that helps you achieve key objectives and demonstrate the effectiveness of your employees.
---
The app is available for free with no time limit, but with a limit of 5 users with active or archival goals.

The link provides information on tariffs for a larger number of employees.

Versión 2
Añadido funcionalidad de trabajo con detalles de llamadas en la
telefonía
Versión 1

The KPI application helps to plan key performance indicators, observe the situation regarding implementation of the plan in real time, calculate bonuses e.t.c.!
Régimen del trabajo:
El tiempo para respuesta - 48 horas.
Festivos: sábado y domingo.
Somos capaces de resolver los problemas de nuestros clientes. ¿Tienes dudas? Deja una solicitud en support@apik-it.com y lo arreglaremos todo!
Configuración de la aplicación
Después de la instalación, debe configurar los tipos de resultado. Hay cinco tipos básicos disponibles para mayor comodidad. Puede editar los actuales o crear nuevos.
El tipo de «Tarea» por defecto tiene características:
un cálculo: «Horas gastadas»;

responsable: «Empleado del objetivo» cuyas tareas se contabilizarán en la meta;

filtrar por: «fecha de finalización».
Si necesitamos contar el número total de tareas que un empleado ha establecido con una fecha límite en el mes actual, debemos cambiar:
un cálculo: «número de tareas»;

eliminar la casilla de verificación del responsable y seleccionar del director;

estado: debe seleccionar todos los valores;

filtrar por: «Plazo límite».
Guardamos.
A continuación, debe completar los objetivos.
Completemos el objetivo: «el empleado 'XXX' debe establecer 100 tareas con un plazo límite en el mes actual para cumplir al 100% con el plan. Este objetivo debe ser mensual». Debe llenar:
El título: puede ser cualquier, se mostrará en la página principal del empleado para el que está configurado.

La actividad: «Sí», si elimina la actividad, el objetivo no se mostrará ni se calculará.

Un usuario: debe seleccionar el empleado.

Tipo de resultado: debe seleccionar el tipo de resultado ya creado, en nuestro caso «Tareas».

Objetivo: debe especificar cuántas tareas se deben establecer para completar el plan al 100%. En nuestro caso, debe especificar 100.

Añadir gráfico a la página del empleado: seleccione «Sí» si desea mostrar en la página principal de la aplicación.

Período: seleccione «Mes», haga clic en la casilla de verificación «objetivo regular», seleccione el año y el mes de inicio y finalización del plan.
Hay tres opciones para calcular los premios:
«Pago único cuando se alcanza el objetivo» - sólo cuando se alcanza el objetivo completo.

«Pago parcial»: cuando se alcanza un cierto porcentaje del objetivo. Los pagos parciales se pueden establecer varios, pero no se suman. Si hay un pago al 50% - 1400, y al 75% - 3000, en este caso, el premio del 100% será 3000.

«Pago por cada un hecho de cumplir un objetivo» - el pago por cada unidad de objetivo. En el caso de las tareas, en algunos ajustes puede ser por cada hora de la tarea. En el caso de los clientes potenciales - el bonificacion por cada uno.
Para los bonificaciones por tiempo, las tareas proporcionan una funcionalidad adicional de «Permitir pagos parciales».
Guardamos.
Ahora la página del empleado muestra información sobre su objetivo actual, los bonificaciones.
Puede configurar la información para
administradores sobre el personal en la página de configuración.